What a fucking party, I must say BB$ X Huf X Mama X DiamondX Versus X Turntable lab= getting together all hell breaks lose! Milkshake was memorable, Milk club was packed and hit over capacity by 100 people by 12:00a.m. We most definitely enjoyed seing everyone getting to together looking fresh and "Hyphy",good performances and the dj's cut it up through the whole night long. Insane, hyphy ass party and thanks to the Bay family to show LA girls a good time. The weekend ended with massive shopping at Height St. and Thrift Town down on Mission St, the GG(Goodgirls) crew brought us around to show the amazing city of SF.The Gay pride festival was occuring in the same weekend, the streets were filled and the whole city was lively & crazy. We chilled with Mega (Huf) on sunday evening and relaxed with Mimosas by the Marina. The weather was beautiful and Sf was amazing, thanks for everyone coming out on Sat nite.. more "Hyphy asss parties to come!"
P.S. I lost my $400camera in the Cab including 250 of amazing party pics(tear), so these are half of the pictures that are floating around on the web. Video footage and pics comin soon.enjoy..
The hosts of party Lax/Ash/Maria
Adam his Chanel neckpiece was blinding.
This is Hyphy
The infamous Mega (Huf)
Huf Huf Huf
Packed Milk
Will and his friend
Maria with the boys
Taking over the stage
Huf boys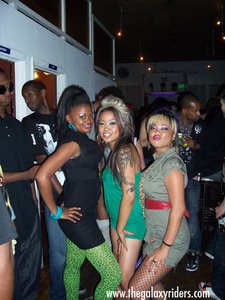 Girlies @ the Party..
Height St. Tourist
Ash/Laura Thai for lunch.
Brownbabies Tees @ TRUE Girls shop on Height St.
Ezra=dad/Will their new pad.
Ash/Laura/Kim(GG)